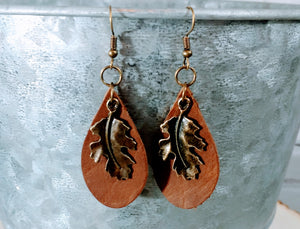 Summer has passed, and Autumn is upon us. It won't last for long, so enjoy it while you can. The cooler breezes, the morning mist with the sun glimpsing over the horizon to cast a golden glow on the once vibrant green leaves. You know what this means. Fall is here!
"Cool" is the word, and 'now' is the time. Take advantage of the short Fall season (at least in Texas) with these inspiring seasonal bobbles. Celebrate the glory of the seasonal shift into temperate beauty. These were *meant* for you, and ONLY you. Sadly there are only a few available. Will you be one of the lucky ones?

Disclaimer : Due to the unique nature of hand crafted items, variations in wood grains or in natural leather thickness, cuts and subtle differences in dye patterns, some items may be slightly different than what is shown in the photograph. This aspect adds to each items uniqueness and guarantees that no two pieces will ever be exactly the same. You will truly have a one of a kind item; One that friends will envy from the moment they see it.

** This may or may not apply depending on materials used (such as acrylic and/or LED bases), but most of our items can be considered unique and one of a kind due to the characteristics mentioned above.