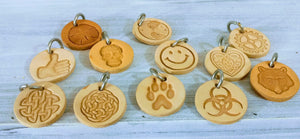 Tired of picking up that old and drab keychain? Bored with the every day jingle of the same old keys day after day? Well you just stop right there, because we have something that will tickle your fancy and spin your wheels!
Introducing the "Keychain-itudes", pocket personalities for your old-n-weary key chains!
"Old-n-busted...vs...new-hotness". Yeh, yeh Mr. Smith. SHADDAP!
If you're tired of the day in and day out appearance of your musty old work horse of a key chain, then these are most definitely for YOU!
* This item is sold on a random selection basis. By ordering it you understand there is a 1 in 37 chance you will get the design you want. You can send us a message with your order requesting a specific design and we will do our best to honor that request, but there are no guarantees we will have the exact style you're requesting in stock.

Disclaimer : Due to the unique nature of hand crafted items, variations in wood grains or in natural leather thickness, cuts and subtle differences in dye patterns, some items may be slightly different than what is shown in the photograph. This aspect adds to each items uniqueness and guarantees that no two pieces will ever be exactly the same. You will truly have a one of a kind item; One that friends will envy from the moment they see it.

** This may or may not apply depending on materials used (such as acrylic and/or LED bases), but most of our items can be considered unique and one of a kind due to the characteristics mentioned above.