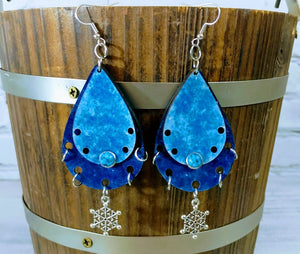 You've endured through the Spring and made it beyond the Indian summer. Fall has all but gone, and the colder times are setting in. You've still not healed from the heartbreak and loss of your closest friend, confident, lover, husband. He died a heroes death fighting for what's right, our freedoms, our liberties.
The cold, uncaring winter is setting in. The tears you shed become Tear Drop Frost as they slowly linger down your cheek, only to become ice as hard as diamonds. They hit the ground, but do not shatter. They embody your strength to go on, to survive, to rebuild.
These unique earrings from Shandari Designs will only strengthen your resolve, and announce your intentions to the world. You are a SURVIVOR. YOU WILL PREVAIL!

Disclaimer : Due to the unique nature of hand crafted items, variations in wood grains or in natural leather thickness, cuts and subtle differences in dye patterns, some items may be slightly different than what is shown in the photograph. This aspect adds to each items uniqueness and guarantees that no two pieces will ever be exactly the same. You will truly have a one of a kind item; One that friends will envy from the moment they see it.

** This may or may not apply depending on materials used (such as acrylic and/or LED bases), but most of our items can be considered unique and one of a kind due to the characteristics mentioned above.