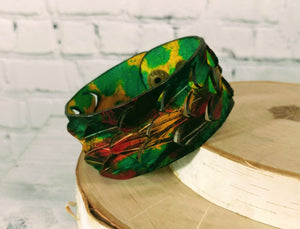 You can read the history of this beautiful and sentimental piece in the listing for its pristine counterpart, The Acid Dragon.
This version is less joyous, but just as celebrated. This is The Battle Worn Acid Dragon cuff. Sadly both it's rider and the dragon who bestowed the armor perished in battle protecting the allied realms. You can see in great detail every slash, every stab, every hacking blow this great beast endured protecting his rider, and his charge, the humans.
Pay homage to their sacrifice by proudly wearing this cuff. Make a statement that will be heard for centuries: Make Dragons Great Again!

Disclaimer : Due to the unique nature of hand crafted items, variations in wood grains or in natural leather thickness, cuts and subtle differences in dye patterns, some items may be slightly different than what is shown in the photograph. This aspect adds to each items uniqueness and guarantees that no two pieces will ever be exactly the same. You will truly have a one of a kind item; One that friends will envy from the moment they see it.

** This may or may not apply depending on materials used (such as acrylic and/or LED bases), but most of our items can be considered unique and one of a kind due to the characteristics mentioned above.