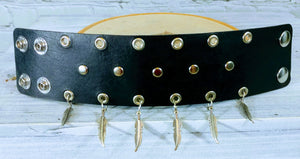 Anyone who rides knows this name. The myth, the man, the legend.
Not a whole lot really needs to be said about this piece. It was created to pay homage to one of the most talented builders to ever grace the scene. A cliche'? Maybe, but the intent is nothing short of ultimate respect for a man taken from the bike world way too soon.
R.I.P. Indian Larry - August 30, 2004

Disclaimer : Due to the unique nature of hand crafted items, variations in wood grains or in natural leather thickness, cuts and subtle differences in dye patterns, some items may be slightly different than what is shown in the photograph. This aspect adds to each items uniqueness and guarantees that no two pieces will ever be exactly the same. You will truly have a one of a kind item; One that friends will envy from the moment they see it.

** This may or may not apply depending on materials used (such as acrylic and/or LED bases), but most of our items can be considered unique and one of a kind due to the characteristics mentioned above.